[ad_1]
Over a thousand musicians and their fans, friends and family flocked to Shelter Island on Tuesday night for the 30th Annual San Diego Music Awards.
This year's in-person awards at Humphrey's By the Bay were a welcome comeback after the 2020 virtual event, which, let's be honest, went extremely smoothly, considering all the technical hurdles that had to be encountered. overcome. While there might not have been a lot of live shows in the last year – that's why there wasn't a Best Live Band award this year – the music never came out. stopped. Artists must make art.
Longtime local singer / songwriter Gregory Page was the big winner of the night, taking home a pair of statuettes for Album of the Year and Best Pop Album, for A hell of a memory. After carving out a role on the San Diego scene as a member of the Rugburns leading Steve Poltz in the '90s, Page has had a long career as a performer both locally and abroad, working often as a solo performer. He's made so many appearances at Lestat over the years that the club ended up naming the stage for him, in fact.
For the most part, the usual suspects like Switchfoot, POD, Vokab Kompany and Tribal Theory have been left out this year, but Jason Mraz got his name on one of the top honors, for Mr. AZ's contribution to the song. R&B singer Rebecca Jade. Winner of the Year, "BadWolves", for which she leaned on Miki Vale and Veronica May for additional creative help.
Tuesday night's performers included Frets glam rockers (see below), singer / songwriter Cindy Lee Berryhill, jazzman Ed Kornhauser, local legends Jerry Raney (who received Lifetime Achievement Award) and the Farmers, Electric Mud rockers, alt-Latino stars Marujah, the blues twang of Chickenbone Slim and R&B singer Brisa Lauren.
Other notable winners include Whitney Shay, whose Get up! won the award for best blues album; Black hesher, of which Saints and mermaids distinguished itself in the Best Hip-Hop or Rap Album Category; budding psychedelic rockers Aviator Stash, who claimed best rock album for Psiyh; and Kahlil Nash, whose name is now engraved on the 2021 award fWhere Best R&B, Funk or Soul Album for Transcendence.
Eagle-eyed NBC 7 fans spotted station reporters Joe Little and Ramon Galindo on stage handing out SDMAs. Little knighted Suede Radio for Best Rock Song ("The Premonition"), and Galindo presented the award to Nash.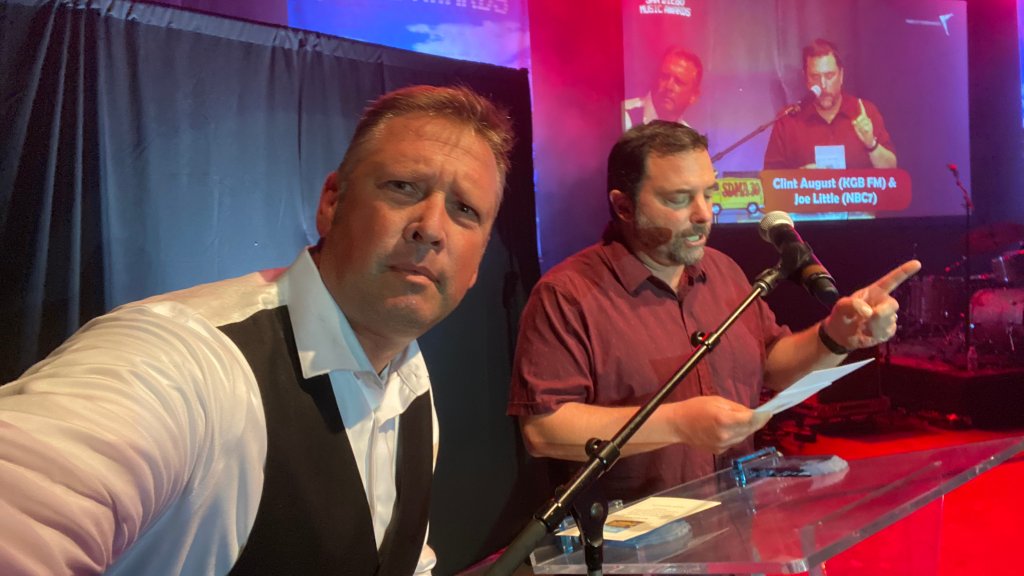 SDMA officials said that according to the big winner in 2021, the San Diego Music Foundation's Guitars for Schools program, which over the years has raised the lion's share of funds raised and donated since 1991.
A full list of winners is below:
Best Folk or Acoustic Song: Lee Coulter, "Look Away"
Best Jazz Album: Ed Kornhauser, The short years
Best blues album: Whitney Shay, Get up!
Best American Song, Jazz or Blues: Shane Hall, "Under my voodoo"
Best American or Country Album: Coral bells, Treehouse ribbons
Best Hip-Hop or Rap Song: Sloat Dixon, "Sloat Style"
Best Hip-Hop or Rap Album: Black hesher, Saints and mermaids
Best Pop Song: TonyaJae, "Getting out of the house"
Best Pop Album: Gregory Page, A hell of a memory
Best Rock Song: Sweden Radio, "The Premonition"
Best rock album: Electric mud, Communication
Best Independent / Alternative Song: Les Frettes, "Daisy"
Best Independent / Alternative Album: Aviator's stash, Psiyh
Best Music Album in the World: New leaf, Feels like …
Best R&B, Funk or Soul Album: Kahlil Nash, Transcendence
Best local recording: Skyler Lutes, Rewind
Best Video: Hawaii heavy, "Boy don't drown"
Album of the year: Gregory Page, A hell of a memory
SNGO of the year: Rebecca Jade, with Jason Mraz, Miki Vale, Veronica May, "BadWolves"
Lifetime Achievement Award: Jerry raney
Music Industry Award: San Diego Troubadour Liz Abbott
[ad_2]