In May of last year, Google introduced a new data security section for apps published on the Play Store. A feature that started appearing on real app listings in April this year and will soon be mandatory for all apps (July 20). Now, data security information sections have started appearing on actual live app listings on the store, and there is something a little concerning. Namely, the new info window seems to replace the app permissions preview that all Play Store apps had before.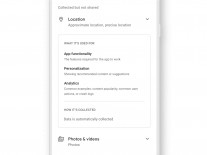 The new data security section in Google Play Store
If that sounds a bit confusing, here's why you should care. Each app listed on the Play Store traditionally has an overview of the Android OS permissions it requests from the system. Things ranging from benign and obvious things like network access to potentially much more problematic and sensitive things like access to contacts, phone file system or location data. This list is automatically generated by Google by analyzing a developer's application files upon submission to the store. Therefore, nothing can be omitted and not disclosed to the user intentionally or not.
In contrast, the new Data Safety section is fully populated by the developer. Google has an interface in its Play Store's Developer Console that lists a range of personal and device data types for the developer to browse and disclose if and how it is handled by their app. For example, the questionnaire may ask whether our application GSMArena, for example, accesses your location and your personal data (which, by the way, does not) and then, if yes, how this data is processed and whether or not they are shared with third parties. This is entirely left to the "honor system", so to speak, with Google simply describing in its guidelines that providing false data could lead to some form of sanction.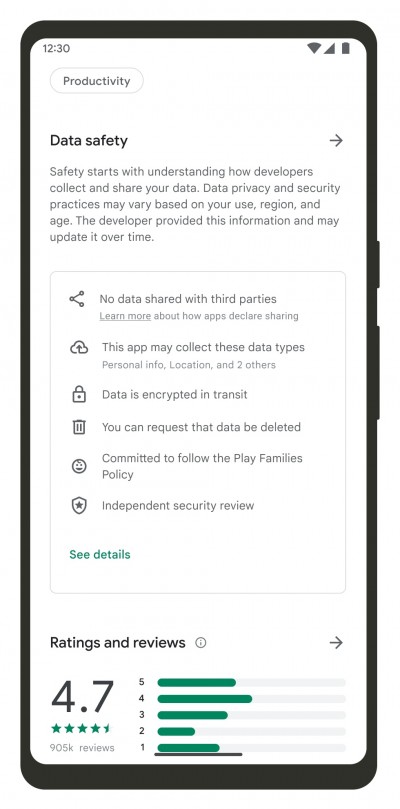 The new data security section in Google Play Store
Therefore, while we all welcome the new information on data security, it's not hard to see why putting them in the Play Store listings instead of the app permissions overview isn't a ideal practice. At the moment, that is exactly what seems to be happening. Certainly, there is still time to adjust this behavior and leave the two data in place. Or maybe we are wrong here and users don't care so much about permissions? Let us know what you think of the question in the comments.